The Milken Institute Annual Global Conference 2023
Published:
By:Tingting Peng
The 26th Annual Milken Institute Global Conference, hosted April 30th - May 3rd 
This year's annual Milken Institute Global Conference focused on the theme of 'Advancing a Thriving World' and brought together experts and leaders from various fields to tackle urgent challenges and explore opportunities. The conference covered a range of topics such as health, finance, business, technology, philanthropy, industry, and society and it was a fabulous opportunity to gain valuable insights and make crucial connections that drive progress and prosperity across the various sectors.
The panel discussion this year focussed on the role of fintech in promoting financial inclusion and access - The Fintech Movement: Social Economic Mobility Strategies. With such an impressive panel of fellow contributors, I was honoured to have been part of the conversation and to share insights from Moove's journey so far. 
Moderated by the Institute's Director of Fintech, Nicole Valentine, we covered topics such as bridging the gap in financial literacy, leveraging data to bridge the racial wealth gap, and empowering individuals through education and experience. Panellists shared their experiences and insights on how fintech can help people move from surviving to thriving, and how it can be used to create new industries and job opportunities.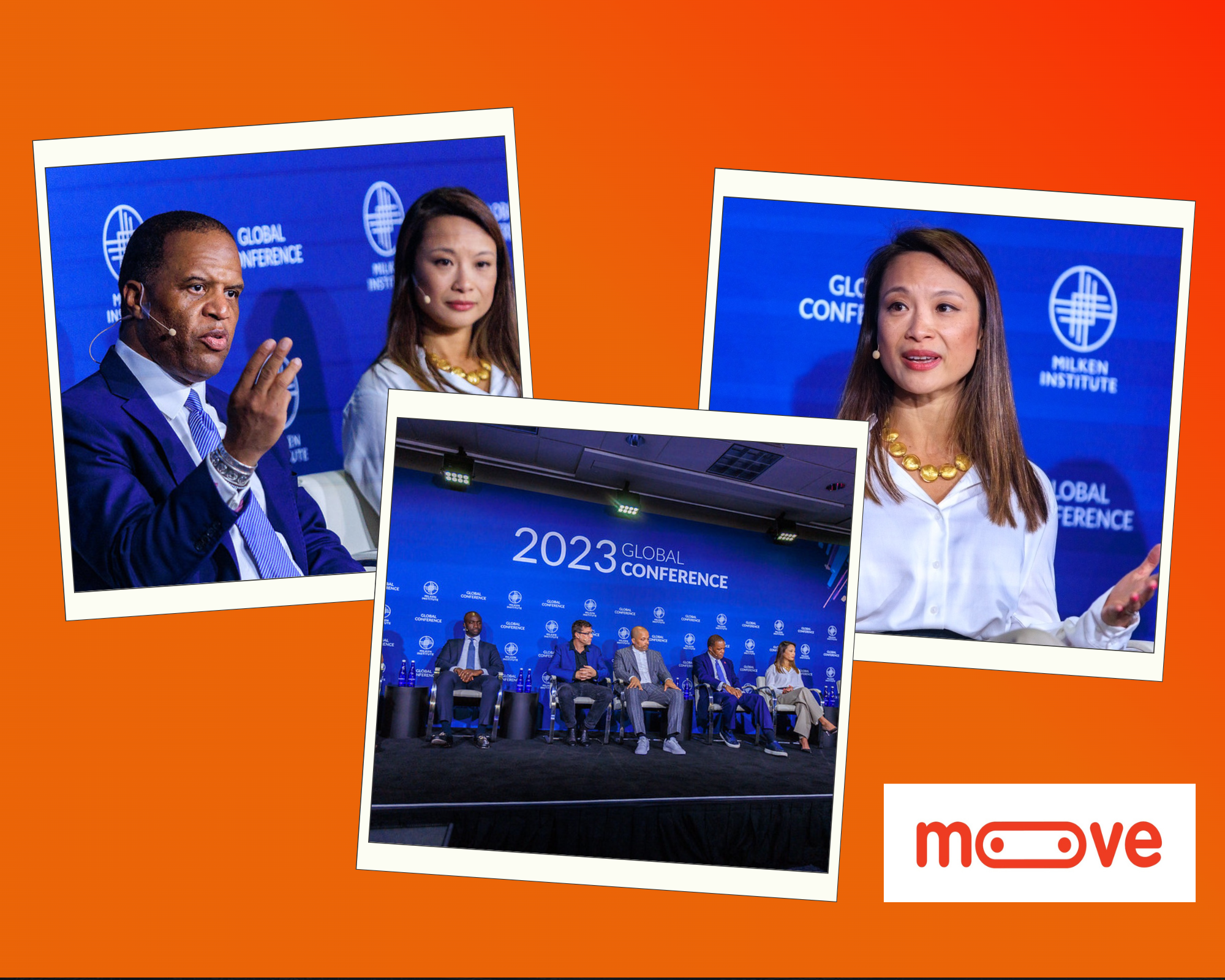 The discussion also touched on the importance of being customer-centric and inclusive in designing fintech solutions, and the need to understand the cultural context and nuances of different markets. 
Overall, the discussion emphasized the ability of fintech solutions to create positive social impact and promote justice capitalism and gave hope to those listening on the potential of system-wide, global change.
The risks and opportunities around health, finance, business, technology, philanthropy and industry, are today, interwoven throughout society. Addressing these urgent challenges and exciting opportunities that affect people's lives globally, such as financial inclusion and access has never been more important because they affect billions of people worldwide and fintech solutions are playing a significant role. In addition, creating inclusive branding that represents all individuals is necessary for promoting diversity, equity, and inclusion in society. Moreover, fostering collaboration and partnerships between public, private, and civil society actors can help bridge the gap between the haves and have-nots and enable individuals around the world to become financially empowered. These issues reflect the need for systemic, global change to address the complex challenges of our time and promote progress and prosperity for all.
John Hope Bryant - Banking is not a financial business, it's a trust business.
John's discussion highlighted the need to develop strong partnerships between traditional banking systems, fintech companies, and other actors in the financial landscape. These partnerships can help create an environment in which individuals can access and use financial products and services easily and safely. By working together to create innovative solutions, these partnerships can enable more people to become financially included and empowered. In addition, collaborations between public, private, and civil society actors can foster greater financial literacy, reduce inequality, and provide a platform for individuals to build their assets.
Jay Brown (founder of Roc Nation, co-founder of Marcy Ventures) 
Jay talked about the importance of the language of inclusion and listening to customers. Jay worked with Rihanna on the launch of Fenty Beauty, which has become an iconic example of inclusive branding. The brand's 50 Shades campaign, launched in 2017, was particularly groundbreaking as it featured a diverse range of models with varying skin tones and body types. This campaign was a response to the lack of diversity in the beauty industry and aimed to provide representation for all individuals. Through this campaign, Fenty Beauty has not only created a loyal customer base but has also set an example for other brands to follow in terms of inclusivity and representation. It is inspiring to see how one person's vision can create such a ripple effect and bring about positive social change.
Yoni Assia (founder, CEO of eToro) 
Yoni honed in on the capability of social networks and the opportunity that they offer for people to learn from one another, specifically around finance.
Shivani Shiroya (founder, CEO of Tala) 
Shivani tackled the positioning of leadership and the contribution we are responsible for in empowering change. As leaders, we need to think of ourselves less as heroes and focus more on enablement acceleration.
Wemimo Abbey (co-founder, Esusu) 
Wemino discussed 'Doing good and doing well are not mutually exclusive'. It is clear that in order to achieve true financial inclusion, there needs to be a concerted effort from all stakeholders involved. This includes not only financial institutions, but also technology companies, governments, and civil society organizations. These partnerships must be built on trust, transparency, and collaboration, with an emphasis on providing access to resources and support to those who are less financially literate and knowledgeable. In addition, it is essential to focus on creating products and services that are tailored to the needs of the people they are intended to serve. By working together to create innovative solutions, these partnerships can help bridge the gap between the haves and have-nots and enable individuals around the world to become financially empowered.
Thank you Milken Institute for yet another eventful annual conference and an insightful panel discussion. 
Until next year and as always, let's #LetsKeepMoovin' #LetsMooveTogether